Mural and Multiple Panel Work
Peter Simpson Cook
MODERN LIVING IN THE MOMENT
An 88 foot long hand painted mural in acrylic on 22 birch wood panels, each 8 x 4 feet and 13 blowing sculptural elements.
A reflection of the elusive Southern California modern life style.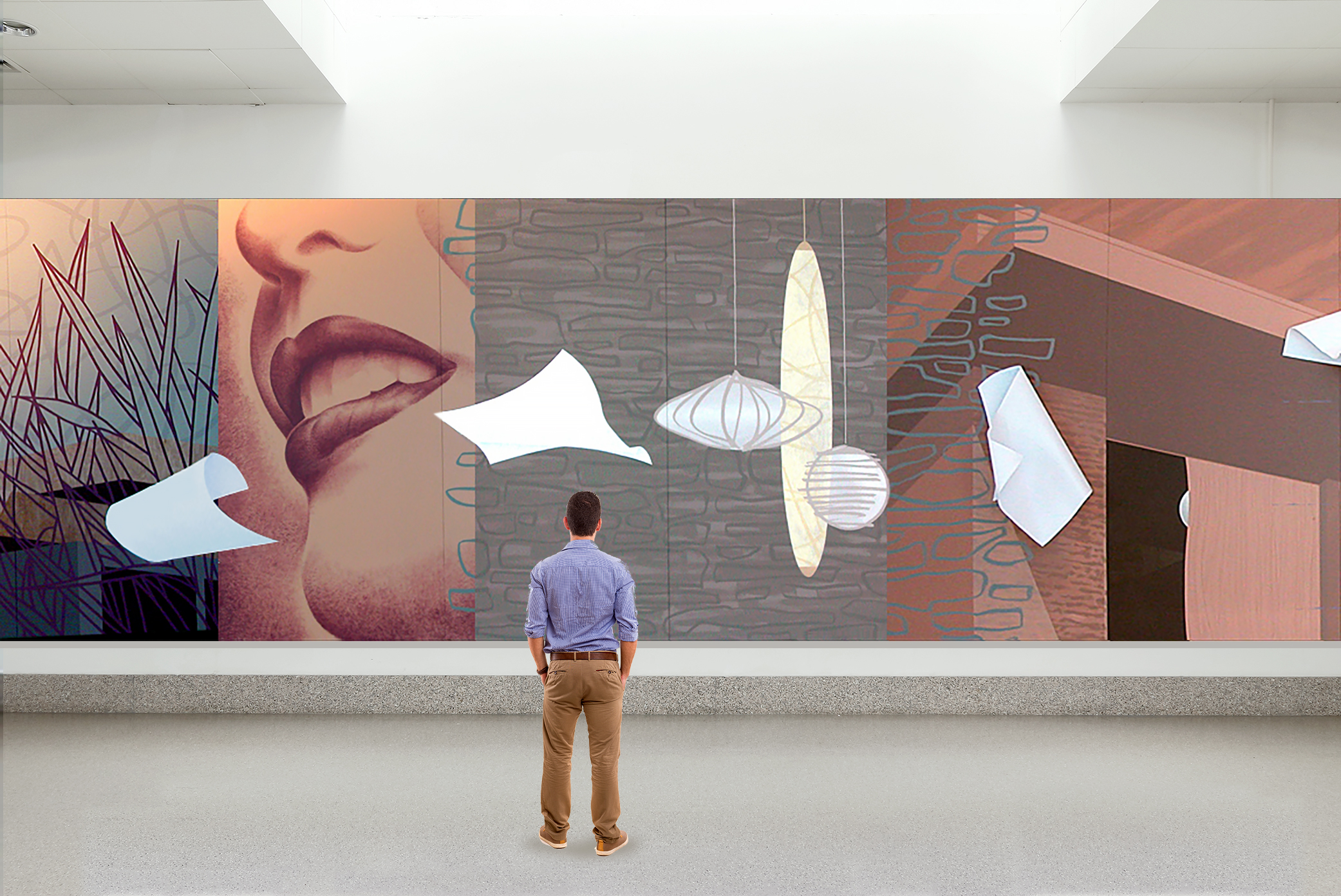 EXHIBITIONS
52nd Annual Southern California Home+Garden Show 2006, Anaheim Convention Center, Anaheim; Russell Group Architects Offices, West Hollywood, California.
Site Unseen; Earth, Water, Air, Fire
A set of two diptychs on four canvases.
The four classical elements -- earth, water, air and fire -- were proposed to the Greeks by Empedocles, then conceived by Plato to consist of atoms, their surfaces made up entirely of triangular geometric shapes. Later, Aristotle saw the elements as combinations of opposites -- hot and cold, wet and dry. By the Middle Ages one's health was thought to depend upon a balance of the four elements, and by the time of Hippocrates, the theory of the four humors was developed. We still say that people can be in a "good humor" or a "bad humor." The classical elements continue to this day to be used to describe moods, attitudes or personalities. Connecting to the environment is natural for everyone since the four basic elements are in all of us. We can choose to make wind and solar energy more important to our modern lives and at the same time open our eyes to a world that can sustain us without destroying nature.
*These four canvases which make up two diptychs, were created to hang together as part of the Human Nature Collection.
RECYCLED SERIES
A single painting, two triptychs and one diptych.
When a leaf falls, a new one is there to take its place.



*Hidden Talent (Migratory Worker) 12x16", acrylic on canvas SOLD private collection; *At Rest 36x12" triptych, acrylic on canvas; *Recycled 36x12" diptych, acrylic on canvas; *Ephemora 36x12" triptych, acrylic on canvas. Originals are available for purchase.
*Part of the HUMAN NATURE a Collection of New Paintings.
Poolside Collection
Six of seven paintings on canvas by Peter Simpson Cook, commissioned and installed near the spa and pool area of the Los Angeles Sofitel Hotel, 2007.
Artwork by Peter Simpson Cook. All rights reserved.